Summary Report on Trials of the FlexxiCore Challenger
FlexxiCore Challenger – Phase 2 Trials – Summary Report
Introduction
The FlexxiCore Challenger is a health and fitness device that triggers our natural self-healing and self-balancing capacity with a combination of subtle vibrations and seesaw-like oscillations that mimic our gait as we walk or run. The FlexxiCore Challenger's programming includes the option to enjoy constantly changing patterns of vibrational frequencies and oscillations over a 10-minute session – as well as a manual mode where speed can be set at a fixed speed, or varied at will (there are 10 settings), using the handheld remote controller.
The vibrational forces and oscillation of the Challenger's platform trigger automatic responses from the muscles and nervous system of the whole body in a high-intensity rhythm, giving the benefits of intensive exercise within a short time frame. With regular use a variety of potential health and fitness benefits can be experienced, including toning and strengthening of the muscles and connective tissues, recovery from pain, tension and stiffness, improvements in posture, flexibility and poise, improved sleep, and a boost to circulation.
Despite the publication of over 200 clinical studies on the benefits of Whole Body Vibration training ("WBVT") over more than 10 years, there has been some scepticism about its fitness benefits relative to more traditional forms of exercise. One trial published in 2007 with 220 older men and women that was specifically designed to compare the effects of WBV with regular exercise over a 12-month period. This showed that WBV training is as efficient as a conventional fitness program in increasing isometric and explosive knee extension strength and muscle mass of the upper leg. More remarkably, while the Fitness group performed cardiovascular, resistance, balance, and flexibility exercises for about 1.5 hours in total, the WBV group in this one-year study exercised for a maximum of 40 minutes – see The Journals of Gerontology
Trial Participants and Trial Format
The aim of these trials was to allow a group spanning various age groups and fitness levels with no previous experience of the FlexxiCore Challenger to observe the effects of regular use ("at least 3 times a week") over 60 days. The group of 42 undertook a 60-day trial of the FlexxiCore Challenger. The age range was 39 years to 85 years. Twenty three of the 42 participants are practitioners in the medical, healthcare and fitness sectors.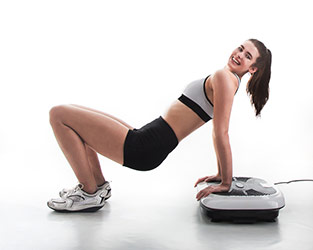 The trials were not intended to target any particular healthcare or fitness objective, but rather to allow participants to experiment with use and to collect certain measurements as well as their own subjective observations. The various benefits noticed by participants have been roughly classified in the list below.
Weight Loss and Reduction in Waist, Hip and Thigh Measurements
More than 50% of participants experienced more than 5lb weight loss and/or more than a 1-inch reduction in waist, hip and/or thigh measurements within 60 days. The correlation between weight loss and reductions in waist, hips and thigh measurements is shown in these charts.

One comment from an active British Horse Society Instructor specialising in Rider Biodynamics reveals something about the quality of the weight loss that can be achieved with use of the Challenger: "Have previously struggled to maintain 116 lbs. Now 110 or less. If I have previously got down to 112, weight went from face and I looked gaunt; [now, with Challenger] face is good, fat thighs gone! Have lost cellulite - very exciting - been trying to get rid of them all my adult life!" MW 63yrs
Even those gaining weight saw this as beneficial. For example, one of them who gained 1.5 kg during the trial had suffered from a number of ailments but noticed big improvements: "Feeling 20 years younger! No joint pains, no stiff back, neck or shoulder pain, my sleep has improved, pain has decreased considerably, allergies improved greatly, increased joint mobility." EW 59yrs
Categories of benefits
We summarise below the effects observed by participants in each category. Next to each category heading is the number of participants who made specific reference to benefits related to it. We have given examples of the perceived benefits for each category. For more examples, see the full Trial Report.
Energy levels and Stamina [Noted by 16 people]
As an example, this male Pilates Instructor saw a significant boost to energy and stamina: "More energy – better sleep, lower stress level throughout the day, less tired in the early afternoon" RH 55yrs
Fitness / performance levels [Noted by 16 people]
This is how one participant, a Nutritional Therapist, described the improvements observed: "(day 25) I've started swimming again and notice that I'm faster and have more stamina and more core muscles. (day 27) I could swim longer than I used to. (day 60) Improvements in back pain, core strength, muscle strength, in performance (swimming, walking up the hill) – thinner waist and weight loss." IR 47yrs
This male sports coach (squash and golf) reported "major benefits in releasing stress tension in the hamstrings; and in match performance and recovery." MH 60yrs
Posture [Noted by 13 people]
A striking illustration of the deep-seated and instinctive responses of the body when challenged by the forces generated by the Challenger is changes in posture, which showed up after 5 sessions for this 46-year old female: "I feel when I am walking that I am using my right [leg] more symmetrically with my left leg. In about 7 years of trying, I have never been able to achieve this before with other exercise – my strength has improved." KT 46yrs
For this Pilates Instructor it was not just a subjective feeling; her osteopath "noticed that my posture has changed and that my lower back is much more toned. He [the osteopath] will recommend FlexxiCore to his clients." IR 44yrs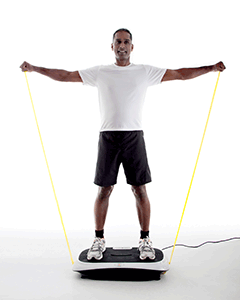 Strength [Noted by 12 people]
Improvements in strength may be observed after just a few sessions, and the effect builds with regular use over time: "After 5 sessions: My knees are feeling much better oiled and legs stronger for my Tai Chi warm-ups in the mornings – amazing difference; my strength has improved. After 60 days: My knees do not ache (or creak) first thing in the morning when I do Tai Chi warm-ups. My body feels stronger in yoga – particularly upper arms and also legs overall. So yes, improvement in right leg muscle strength and muscle mass, cellulite is shifting a bit too. My wrist strength has improved – again I would say that I had a real weakness here. I also have poor circulation in my hands and feet and feel the machine is helping with this too." KT 46yrs
The Challenger's ability to strengthen muscles is not restricted to those with pre-existing weaknesses: This 55-year old male Fitness Trainer saw significant changes too: " I was able to jog easier for longer, stronger legs – felt my back stayed relaxed through my 6-mile daily run." RH 55yrs
Toning [Noted by 11 people]
This example from a 44-year old female gives a good sense of the potential effects: "body looks more toned, large loss of cellulite on thighs – loss of fat around waist/stomach. It is good for people who struggle with exercise. Makes getting toned and fit a lot easier." SR 44yrs
Pain & Headaches [Noted by 10 people]
Reductions in pain were noted, including shoulders, neck, head, wrists, knees, ankles and sciatic pain. This athletic ("walking 2+ miles daily") 68-year old male reported improvement with pain from a 30-year old ankle injury: "1st 3 sessions: Ache at right ankle that has always been painful since I sprained it 30 years ago". "Day 20: Noticing that my right ankle that has always been painful is more comfortable, less painful." RT 68yrs
Sleep patterns [Noted by 10 people]
Plenty of ordinary exercise is not a guarantee of good sleep. This practising Pilates Instructor, who had sleep problems for years, found use of the Challenger transformed the situation: "Haven't slept well for years until started using Flexxicore. I had all but given up that I would ever sleep well again after years of poor quality sleep. It's a real pleasure to sleep soundly and so improve on physical and mental energy - and definitely deal better with stress. Despite having to get up 2-3 times at night to let dogs out, I go straight back to sleep." AM 62yrs
Aches, stiffness, tightness, physical tension, flexibility of muscles and joints [Noted by 13 people]
This example demonstrates the overall effect of relief from temporary or chronic tightness: "When I get out of bed in the morning I am more flexible and feeling good. Joints are freer. I am standing straighter - back and shoulders do not ache anymore. Great invention! I like that the body needs to keep adjusting to the actions and the speeds." HW 68yrs
Stress & tension release [Noted by 12 people]
At least 12 participants saw their stress levels reduce during the trials. Here are two typical comments. "I find this system calming to my constitution. It is definitely relaxing." MW 70yrs "More energy – better sleep, lower stress level throughout the day, less tired in the early afternoon." RH 55yrs
The effects are noticeable even for those without marked stress problems: "Although I don't consider myself to suffer from stress related issues very much, I do feel that since using the FlexxiCore, stress and tension have reduced." JL 56yrs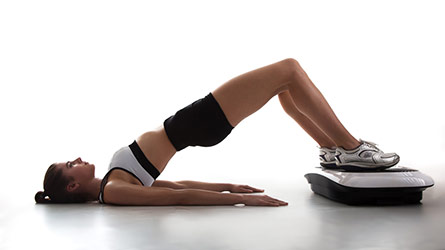 Circulation / Blood Pressure / Breathing [Noted by 6 people]
The vigorous nature of the exercise effects triggered by the Challenger naturally heightens blood and lymph circulation and respiration rates. The added benefit may be improvements that are sustained after use; here are some examples: "My breathing is much deeper and more even, since working with the FlexxiCore." JL 56yrs
"I also have poor circulation in my hands and feet, and feel the Challenger is helping with this too." KT 46yrs
"My breathing is much better too, it's as if I breathe more freely, slowly and deeply. I can't measure this for accuracy but it is something I have noticed along with a greater sense of ease in my general moving around. I was so very pleased to see my blood pressure reduced and stay that way. [136/83 moved downward to 120/80 by session 16, and stayed there at the end.]" PS 56yrs
Balance [Noted by 8 people]
At least eight participants noticed improvements in their balance, often due to consciously working to improve balance problems they had previously. One participant paid attention to this aspect from the start of the trial: "[Day 5] have started to notice small improvement in balance, which had become quite poor before starting FlexxiCore work. [Day 10] Have noticed a continual improvement in balance in everyday activities. [Day 25] balance on one leg continually improving. [End] I am really happy with my ability to perform exercises longer without fatigue, along with continued improvement in suppleness and balance." JL 56yrs
This 68-year old male also worked on improving his balance: "[Day 15] Balance is getting good now: trying to stand on one leg – with one eye shut. [Day 25] Easier to stand on one leg – with or without eyes shut." RT 68yrs
Motivation to Exercise [Noted by 7 people]
The participants in these trials started with a variety of fitness levels. Some were fitness enthusiasts; some admitted to finding it hard to get enough exercise; others were somewhere in between. For people who had a history of insufficient exercise, the combination of enjoyable and varied routines, convenience, and accelerated results (within a brief 10-minute session) meant that they were able to feel good about experiencing vigorous exercise on a regular basis. This was described by one participant in this way: "I also noticed my desire to want to use the FlexxiCore, and for this to be a way of getting back into exercise, which I have shunned for a very, very long time, compared to my 30's when I was exercising 6 days a week and sometimes twice a day." PS 56yrs. This was echoed by another: "I look forward to a session and find that the more I use it, the more I want to use it." HH (age not given)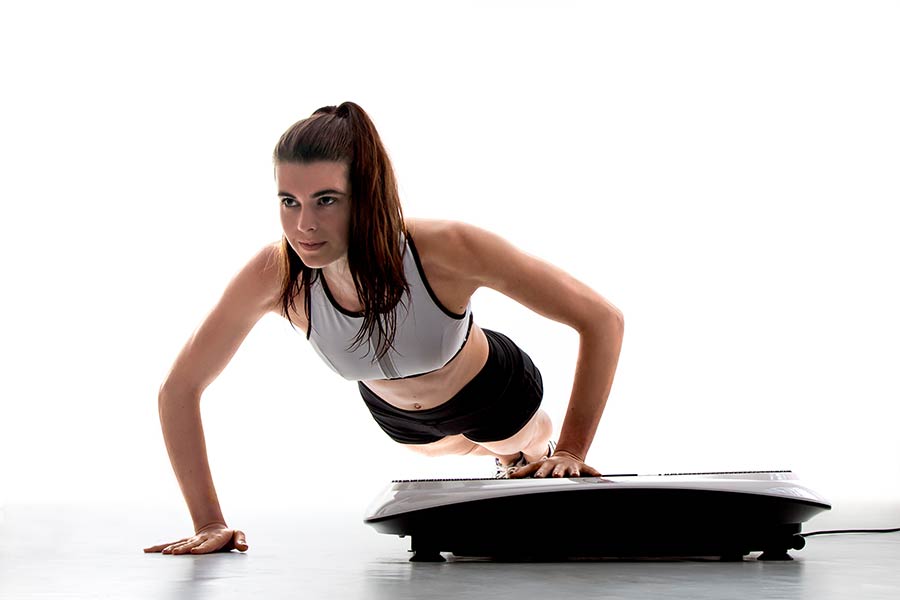 One participant who admitted to disliking exercise previously found use of the Challenger "addictive": "I never liked doing exercise before, and getting out of breath, hot and sweaty - so this is great. Just the benefits of exercise! The faster auto sessions are great as I feel they are really beginning to work the muscles of my legs and buttocks, abdomen as I adjust my posture. … It is a great way to release muscular tension at the end of the day by getting the muscles moving, having sat for longish periods at a computer. FlexxiCore Challenger is becoming addictive! … For those of us with busy lives, it is great to only need short sessions on the Challenger to feel the beneficial effects of doing exercise. I never felt that spending hours exercising was the best way to maximise my use of time. This is much more efficient for receiving the benefits in a shorter time. I am not looking to be an athlete but it is making my body flexible and supple without getting all out of breath. Great invention!" HW 68yrs
Core strengthening, i.e. conditioning and stability of the inner core muscles [Noted by 6 people]
At least six participants saw definite improvements in core muscle strength within the 60 days of the trial. One female who said that a major reason for entering the trial was to "strengthen my core muscles" reported that she "felt stronger internally (core)" at the end of the trial, and logged her gradual improvements:
"Session 11: Core of body feels stronger. Session 17: Am getting closer to touching my toes, definitely feeling a stronger core. Session 22: Closer to touching toes – leg cramps at night have disappeared." She also reported that her "posture improved, improved flexibility in hips… and ham strings have stretched farther than I ever expected they would!" HH (age not given)
A Pilates Instructor - naturally well aware of the core muscles - reported this: "Improvements in back pain, core strength, muscle strength, muscle mass (not measured but feel stronger), relief from pain (hips)." IR 44yrs
Back care [Noted by 4 people]
Backcare specialists now know that exercise is the most important treatment for most back pain issues; rest is no longer the knee-jerk advice to those suffering from back ache. Use of the FlexxiCore Challenger can help with backcare in a variety of ways. For example, this participant reported on Day 12: "discomfort in lower back gone after exercise [with the Challenger]; instead lovely warmth and freer movement." IR 44yrs
Back pain can often compromise one's enjoyment of exercise. This participant found that by working to strengthen her back in the first sessions she was able to move on to more challenging exercises by Session 20: "I have spent a lot of the sessions in standing posture because it felt it was really helping my lower back, just varying the speed. Now the lower back is getting stronger I am starting to work on other areas using lunge, squat, core workout and bridge pose. I have used a variety of these in the following sessions." HW 68yrs
This participant, who suffers from Chronic Fatigue, noticed the back care benefits particularly in relation to her PC keyboard work: "My lower back feels like it has got better, but it was and is affected adversely if I sit at PC long periods. The improvement is a feel of the muscle tone that is hard to describe. To help keep the core muscles toned, I think [the Challenger] is a great tool and [is] helping my back issues. JM 48yrs
This retired Chartered Accountant noted that "muscles seem stronger and more flexible; back aches, e.g. when gardening, are now very small; not tired at all when playing golf" ML 79yrs
Bowels [Noted by 2 people]
At least two participants saw definite improvements in bowel movements. This participant saw remarkable improvements: "The biggest and most successful benefit is that I suffer from mild incontinence (due to earlier pregnancies) and have always found it very hard to improve my pelvic floor muscles. Without specifically targeting this problem, I'm convinced that the machine has had a major influence on this problem." MB 61yrs
Recovery
The original objective of the Russian scientists who developed Whole Body Vibration ("WBV") technology on which the Challenger is based was recovery – specifically for the muscle atrophy suffered by their astronauts in space, and later post-performance recovery for their Olympic athletes. Only six participants in the Challenger trials specifically used the word "recovery" though it is clear from many of the comments covered by other categories of benefits in this report that other participants had in many cases experienced dramatic recovery from various conditions and/or over-exertion. Here are some examples of recovery from temporary conditions.
First, this Pilates Instructor used the Challenger as a recovery tool on Day 2 of her trial: "Went for deep vibration more than workout, as I wanted to release pull in L adductor. Stopped after 10 minutes: Pull in adductor gone, slight nerve pain still remaining." She also made this comment about her use of the Challenger for recovery more generally: "[Day 29] After exercise and stretching session – great way to finish, takes edge off the post-workout pain/stiffness." SA 54yrs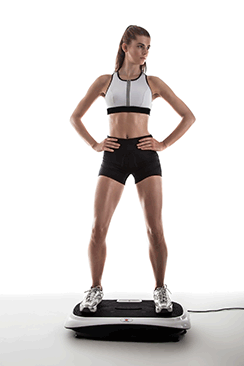 This Sports Therapist noted the advantages of the Challenger as a recovery tool - even in one case when she had extended herself a bit too far with an exercise on the Challenger: "Aided my recovery from delayed onset of muscle soreness after a long bike ride - and also when I tried a new exercise on the Challenger doing too much!" DH 55yrs
Another (male) high-performance athlete (a Cantienica Bodyform* practitioner) reported "improved leg & hip flexibility and faster recovery after strenuous ski touring and strength training." EB 48yrs *CANTIENICA Method for Bodyform & Posture is an "anatomically substantiated posture and movement concept".
Here is an example of recovery for someone less physically active, who had lacked any vigorous exercise in the period before her trial on the Challenger: "It did make it easier for me to get back to walking outside, after long periods indoors; I have in the past really struggled to walk uphill or fast. This time it was as if I was not starting again from scratch but my muscle tone was still strong enough to work well." EJ 52 yrs
This Midwife, who is a ski and rock-climbing enthusiast in her spare time, made this comment: "Recovery period after work or sport seems faster" – MV 50yrs
Bone Density
Though research has shown WBV to be an effective counter-measure against bone loss in later life, bone density measurements were not attempted with this trial, and subjective judgments would not be appropriate.
Mental and Emotional Benefits
Participants were asked to comment on any mental and/or emotional benefits experienced during the trial. Here are some sample comments:
Mental Benefits:
"I did notice in the beginning when I was sitting long days on computer that a session in between sitting was stimulating and positively affected my concentration." SA 49yrs
"Helps mental alertness, feel more awake after using it." SA 54yrs
"Mental energy is better. Thinking is clearer. It is helping me to stay focused and concentrated which is important for my writing." HW 68yrs
"Definitely feel more positive, and doing it before starting work meant starting the day feeling I could cope and be alert. It puts me in a good mood for the day, feeling positive." SM 41yrs
Emotional Benefits:
"Improved mood, wellbeing, general outlook, less tension." EW 59yrs
"I do think the motion [of the Challenger] has a healing effect in releasing long held trauma. I used to get spasm moments in my legs, arms and pelvis at night as a result of abuse trauma, these have now almost completely gone – I have not had any since using the Challenger. I have also lost weight and feel more like increasing my level of activity." EJ 52yrs
"Being in control of my fitness & diet generally makes me happier, so that's a positive outcome." SB 44yrs
"My partner has commented that he feels my general outlook has been much more positive." JL 56yrs
"I have been a full time carer for my mother for 7 years now. I have gone through every emotion and feel utterly drained. During this trial I also lost my cat and my dog so it has been a traumatic time. Despite all that I do feel better able to deal with the stress. I feel more positive and I think my sleep is better although I get woken up through the night by my mother. Despite the strain of full time caring and lack of freedom in my own life and seeing my life quickly passing by, I definitely feel happier most of the time - I had a downer a couple of days ago but got over it." VH 68yrs
Overall impressions
Participants were also asked to comment on their overall impression of the way in which the action of the Challenger affects their bodies. Here some sample comments:
"Very positively, fitter, firmer, stronger, resulting in more energy. I think skin tone is slightly brighter." VH 68yrs
"I feel that I got the most benefits when I used the Challenger whilst really listening to the part of the body that I was working on. I experimented with flexing and relaxing muscle groups during the different speed settings and found that this enhanced the workout." HH (age not given)
"I feel invigorated after every session, even if just for a moment, and actually feel I have done exercise and feel good about it." SA 49yrs
"Seems to support my body, help me stand more upright, less slouchy. Has given me a waist, trimmed my thighs some, I have a bit more body confidence, I suppose." EJ 52 yrs
"I loved the vibration through my body; I enjoyed very much feeling where the blocks were and moving my body position to try and get the vibration to reach those areas. The machine itself is very solid and the platform feels very safe and solid. This reflects the feeling that the vibrations were purposeful and beneficial." MB 61yrs
"Would you recommend the FlexxiCore Challenger to your friends/clients?"
Participants were all asked this question. Thirty six participants answered "Yes". Of the others, one said "yes, but only if they have used a Power Plate before," two did not complete the questionnaire (though did purchase the Challenger at the end of the trial), one did not complete the questionnaire (and returned the product before the end of the trial as they had health problems that prevented continuing with the trial), while another who returned the product for similar reasons answered "not sure".
Benefits of the different speed settings
Participants were asked to comment on the options for controlling speed, i.e. the manual control and the three pre-set programmes with automated speed and frequency variations. Here some sample comments:
"They are probably the best settings I have come across on a piece of sports equipment. They are all valuable and different enough from each other that they don't just seem like a gimmick, as many do. I found warm up and manual extremely useful in the beginning, and would always start a client on the machine that way. I still use the warm up session when I am not warm or when I feel a little fragile. It is good as a stand-alone setting or as a prelude to either stimulate or refresh. Over the weeks using the Challenger I found myself using stimulate the most and it is a definite favourite." SA 54yrs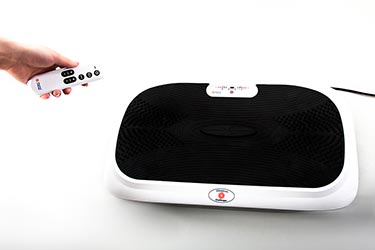 "I feel that having 'played with' the speed settings throughout the trial, I like the fact that the body doesn't get used to a particular speed / setting. It feels beneficial to know that the body doesn't become 'familiar' with the speed of vibration and oscillations. I also like the controllability of the settings, so I can use them according to how I feel on a particular day." JL 56yrs
"I liked the fact that I didn't have to think about changing the speed settings and to simply 'work with' what the Challenger was giving me. If I had to regulate the speed myself I don't think that I would have challenged myself enough …." HH (age not given)
"Using the different speeds depends on how I am feeling – tired or headachy. I actually love the fast speed, stimulate – feel it's really good for body – but can only do it for a couple of minutes. For myself I would say all the speeds have obvious benefit even at a slow speed for a few minutes. I am very impressed with Challenger." VH 68yrs
Impressions during the first few sessions
Participants were asked to note and distinguish their feelings during "the first three Sessions"; "the next four sessions"; and "the remaining sessions." Some found the enjoyment factor was there from Day 1; others reported feeling "a bit strange," "mild nausea," "twinges" and other initial feelings of apprehension and minor discomfort. These feelings generally changed quickly to positive feelings and outcomes within a few days. This comment on Day 5 was typical of those who started a little warily: "I feel I am definitely getting benefit from the machine and getting more confident using it. It is strengthening and balancing pelvic muscles. I am now actually beginning to enjoy it and look forward to doing a session instead of being wary of it!" HW 68yrs
Here are some examples of this type of progression:
For the first three sessions: "Slightly strange, but got used to it – afterwards, more relaxed and awake and more length in my hamstrings."
For the next four sessions: "Hamstrings lengthen quicker – back relaxes after 5 mins – starting to feel stronger in legs."
Remaining sessions: "Upper body and legs got stronger – being able to stand on 1 leg – due to an ankle injury; that was not possible before." RH 55yrs
For the first three sessions: "Feel as though getting a good workout – can feel muscles. I have had to be very careful due dizziness from neck (caused by being over-stressed) but even so I can feel the benefit in my muscles. I do feel invigorated."
For the next four sessions: "Dizziness has gone, so I was braver with Challenger."
Remaining sessions: "Using Challenger definitely relieves tiredness and invigorates, I feel much more motivated and positive, I'm walking faster and feel as if a load has been lifted from my upper back and I feel as if my posture is better" VH 68yrs
For the first three sessions: "Apprehension – not sure what is happening. Some dizziness when knees are locked because the sensation travels through the body up to the head."
For the next four sessions: "More confident and enjoyment while experimenting, I feel that this is doing me a lot of good after years of inactivity."
Remaining sessions: "I find this method of exercising and toning my body suits my lifestyle together with my rowing machine which gives the cardio-vascular aspect" MW 70yrs
Others found it enjoyable from the start, for example: Day 1: "I felt that in a short space of time (15-20 mins) my muscles were still feeling exercised 24hrs later and so I did not feel it necessary to repeat on a daily basis." For the next four sessions: "My knees are feeling much better oiled and legs stronger for my Tai Chi warm-ups in the mornings – amazing difference. I feel when I am walking that I am using my right more symmetrically compared with my left leg. In about 7 years of trying, I have never been able to achieve this before with other exercise – my strength has improved." KT 46yrs
Day 1: Squats: Narrow and wide; Lunges: Lunges with twist; Plank; Arms: Triceps; Massage quads and calfs.
All these exercises were enhanced by using the Flexxicore, I enjoyed the challenge of the different speeds. The robust quality of the machine meant I felt very secure whilst completing each exercise. Definitely felt it was a very good warm-up and enjoyed the massage at the end. MB 61yrs
To receive a copy of the full Report on the Trials when completed, please send us an email.
There are many ways to use the FlexxiCore Challenger - depending on your fitness level, age and objectives.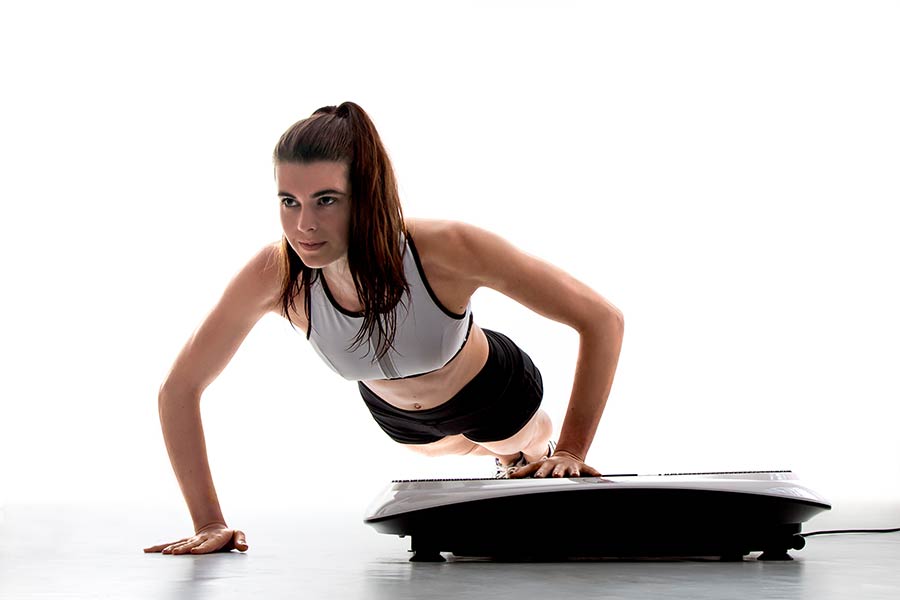 First of all you can watch a training video here which gives tips on how to start using the FlexxiCore Challenger.
Set out below are a variety of workout routines that can be used with the Flexxicore Challenger which combines vertical vibrations with see-saw like oscillations from side to side. You may customise your workouts according to your needs, whether you start as a novice or have the experience to use more advanced techniques a professional user. The guidelines below will help you get started quickly so you can feel some benefits straight away.

The vertical vibrations create a resistance type workout and the oscillating movement imparts a more intense workout for stimulation and circulation. This combination of vibrations and oscillations will give an accelerated and more intense result from workout routines of your own design and choice. Each session will typically last 10 minutes, and you can include a variety of elements in that time. For example, this 10-minute workout which was published in Personal Trainer Magazine has 8 sections, including warm-up and cool-down. As you engage with the FlexxiCore Challenger's effects and observe how your body responds you may naturally feel the urge to modify your practice. We encourage you to "listen to your body" and not to treat these or any other guidelines as a fixed formula.

Firstly, some important common sense guidelines for all users:
As with all electrical appliances, safety is advised. Please study the User Manual and always make sure that the electrical cord does not hinder the user.
Wearing loose clothing is advised for better range of movements during exercises.
Do not exercise straight after eating or with a full stomach.
Do not exercise in a dehydrated state.
Please be aware that your medical condition could compromise use of the Challenger; check the User Manual for contraindications and, in case of doubt, check with your doctor or other medical practitioner.
Always start with the lowest vibration/speed setting.
Before going any further, we recommend that you read our Supplement to the basic User Guide which gives lots of tips on getting the best from your Challenger.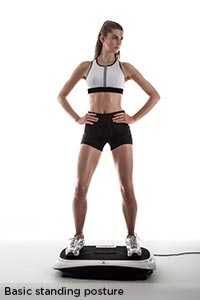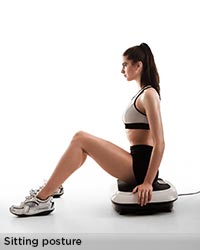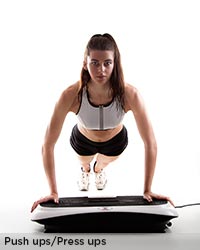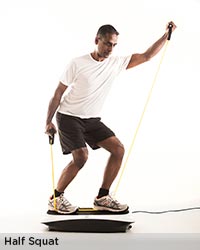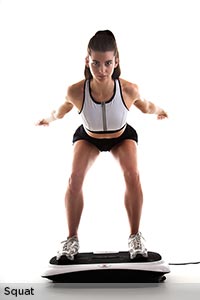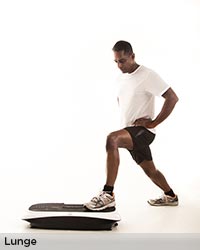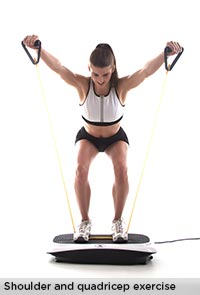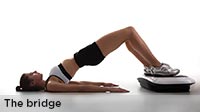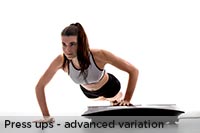 Basic Standing Posture (see picture)
Stand on the machine with feet slightly apart to begin stimulation of overall body and to elevate the body's balance mechanisms. As you widen your feet further apart, you allow more vibration to travel up through the body and increase the intensity. You will also notice that if you bend your knees a little, the leg muscles get more of a workout, while if you keep your knees straight the vibrational force travels up through the core of the body with more intensity. Please therefore adjust your feet and knees, and also adjust the manual mode settings, to suit your individual requirements. You can gradually experiment with these variations to exercise and stimulate different parts of the body.

A variation of the standing posture, for those who are comfortable to do it, is to have the leg bent behind with the foot reaching up to the buttocks. This helps to stretch the quadriceps and knee joint ligaments. It activates the gluteus muscles of the buttocks. Standing on one leg generates an extra response from the body's natural balancing capacity, increasing the impact of the core workout. The hands can be in different positions, not only on the hips as in the picture on this page.
The Sitting Posture (see picture)
The sitting posture offers a gentle massage for the whole body. If required you can also massage specific areas, for example, the back of the thighs or the calves while sitting next to the machine. Or you can sit on the machine to massage the buttocks and at the same time allow the vibrational force to stimulate your core muscles.
During these exercises blood flow to the skin is enhanced, so you might notice some redness, which is perfectly normal.
Push ups/press ups (see picture)
Place your hands on the machine, shoulder-width apart and elbows slightly bent. The reason for bending the elbows is to allow more muscle flexion in the arms, and consequently for more vibrations to travel through them. This increases the intensity of the workout. Please note that the greater the flexion, the harder the exercise becomes.

Although in this position all the major muscle groups in the upper and middle part of the body are activated, it is mainly for the chest, i.e. the pectoralis major. Other areas of muscle activation are the rectus abdominus, obliques, trapezius, latissimus dorsi, gluteus maximus, triceps, biceps and deltoids. The number of repetitions ("reps") to use can be gauged by simply sensing how much "burn" is felt in the corresponding muscles. This way you can set your own targets. A more advanced method involves pulsing at the bottom of the push up. Once again the number of reps can be set according to your level.

Alternatively the hands are placed on both outside edges of the machine for a harder workout. In all cases going slower or faster on the push up/press up varies the intensity of the work out. In this case it is important to make sure that there are no oily substances on the palms of the hands, because the edge of the machine is a very smooth surface.
Squats (lower body) (see pictures - Half squat and Full squat)
In the squat postures shown in the pictures (one with use of resistance cords), the quadriceps group of muscles are activated. Arm positions during squats can be varied randomly and according to choice with or without a resistance band or cord for added intensity. However, having the arms in an upright position makes the workout far more intensive for the cardiovascular system, as blood needs to be pumped up to the arms against gravity.

Widening the legs further apart and making sure body weight is roughly 80% on the heels will allow for more direct travel of vibrational energy which could otherwise be lost in the arch of the feet and lessen the impact of the workout, i.e. there will be less G-force to respond to. An advanced variation of this technique is to pulse* when at the lowest point in the downward position. (*To "pulse" is to make small repeat movements of the same larger movement.)
Lunge (see picture)
This is primarily a gluteus and hamstring exercise, and can be done with one leg placed on the machine with the travelling leg moving slowly behind as the chest is brought down towards the stationary leg which is on the machine, and is taking the full force of the vibrations. It is important to keep the knee bent about 15 degree.

When correctly applied by bending forward at hip joint, this will engage the gluteus and hamstring. The gluteus being a smaller muscle group, it will tend to experience fatigue faster than say the quadriceps. If a static lunge is employed then all the corresponding lower leg muscles and tendons will be engaged and worked according to the vibration intensity.
Shoulder exercise and shoulder exercise with quadricep exercise (see picture)
The muscle activation here is the deltoid and the quadriceps (if moving into a sitting position). The resistance band or strap is chosen to suit the user's strength. (These bands & straps can be purchased in different resistance strengths - usually colour coded.) The arm positioning is by choice depending on variation of exercise.
Bridge pose for activation of the lower back muscles (see picture)
Often called the Bridge Pose, this involves having your feet on the platform (as in the "Core workout" described below) and the shoulders and neck supported on the floor as required. Raise the body away from the floor to create the "bridge" effect, but only as far as is comfortable to avoid muscle strain. Over stretching the pectoralis muscles will hinder normal breathing patterns. It helps to push down on the arms for a stronger and steady support of the body.

The major dorsal, gluteus, and pelvic muscles are all activated during this bridge pose. By simply tightening these muscles through motor coordination, you can help work them harder because of the added resistance through the muscle tensing.You can add further intensity to the workout by raising the back up and down, and pulsing at various elevations of your choice.
Push ups/press ups - advanced variation (see picture)
As you progress you naturally want to try out different poses. As the body gains strength, flexibility and better circulation, it becomes possible to add to your regimen of variations. The key to this is to steadily improve and gain confidence with the use of the machine. This will help you discover more fun as you increase your ability to maintain fitness for life with the Flexxcore Challenger.
Core workout
Lie down on a yoga mat or comfortable rug to keep the back comfortable and warm. Place a rolled up towel or suitable soft and firm foam support under the neck. Place both feet on the platform. This is a very relaxing posture as the spine lays flat and only the feet are on the machine surface, providing a soothing massage through the limbs. However it is in effect a core workout routine, where the muscle activation is for the external obliques - i.e the abs.
The machine is largely sending vibrations through the body, providing more of a massage to the calves and thighs. However, the vibrations still provide some beneficial stimulation to generate muscle response from the body, and an overall workout happens due to the acceleration effect.
When in this position you can alternate into the yoga bridge pose to activate the back muscles as well.
Resting in between poses helps recovery time during your exercise session.
Simple bicep exercise using resistance band or cord to activate the bicep brachii muscles
Before beginning this posture, it is important to make sure the strength and length of the resistance band or resistance cord selected is suitable for your needs. When in the standing pose the band should be able to reach waist height and then extend further during the exercise when the biceps contract. It is advisable to avoid flexing the wrists as this is a bicep exercise only. Variations in intensity can be achieved by changing the centre of gravity moving the hands away from the waist outwards.

Repeat as many times as in your choose whilst engaging full body vibration with knees in a soft position, slightly bent. The reps can be performed slowly or fast to vary the degree of calorie burn in the muscles.
Some more advanced variations
The standing pose with the leg bent behind
Once you are familiar with the basic standing pose, you can now practice a more advanced version of this pose by standing on one leg, which will serve to strengthen the core muscles and activate the body's natural self-balancing capacity further. This pose helps to stretch the quadriceps and knee joint ligaments. It activates the gluteus muscles of the buttocks.
If standing on one leg is at first challenging for you, it is helpful to set up the Challenger next to a wall, chair or support bar to steady yourself during the exercise. You can alternate with the opposite leg at regular intervals.
It is important to continually be aware of muscle fatigue so as not to overwork muscle groups and tire too easily - as this is an advanced workout at high speed. Please therefore start on lower settings and shorter time duration for maximum benefits.


Forward bend at full stretch (hands and feet on the platform) with knees slightly bent
This more advanced pose requires a full forward bend from the waist, with knees just slightly bent, and hands reaching down to the platform. If you are unable to achieve a full bend at first it is advised to warm up by first doing the stretch off the Challenger. This will guide you in exploring how far you can go safely without over stretching. You will find after just doing the basic standing pose on the Challenger for some time that the muscles will feel a lot more relaxed - which will help in doing this and many of the other poses that you may want to incorporate into your training program.
Note: only attempt to carry out this advanced pose when you are able to freely touch your toes in this forward bend from the waist. As the blood does tend to rush into the head in this pose, it is advisable to pay attention to this. If you start to feel either light-headed or faint, just go back to the standing pose and allow yourself to recover. As the circulation improves over time, the effect of blood rush will become less noticeable. (Blood circulation is also helped if you are well hydrated before this or any exercise program – so do have a glass of water before you start.)
The vibrations are stronger on the hands and arms when the hands are placed on the side of the Challenger so to start off gradually, work your hands from the front around to the sides.
The hands are gripping the sides of the machine for a more advanced workout. The core muscles are activated and the gluteus, hamstring and back muscles are all being stretched. It is important to realise that at high vibrations the body has to work harder to balance itself in this position. Start slowly and gauge your balancing ability.

Variations of the tricep muscles exercises
Once a good level of fitness is achieved in terms of flexibility you can vary your postures on the machine and use it to maximum advantage for physical fitness, utilising many more muscle groups. For example, you can start with both feet on the floor facing away from the Challenger, and placing your hands behind you on the edge of the platform (palms on the horizontal surface, fingers clasping the rounded surface on the front edge).
These muscles can be made to work harder by gradually placing the feet further away from the body. As you dip in and out you can pulse in the down position for a more intense workout of the triceps. Then try lifting one leg vertically with the foot above your head.
These advanced tricep exercise routines are all done while keeping the wrists strong to stop hyper-flexion. By keeping the feet close to the machine at first and then moving them away gradually you will notice the increase in resistance. As the exercise gets harder and more muscle groups engage (as a reverse plank type posture is achieved), a lot more stress is put on the wrists andelbows. Itis important to keep the elbows soft and the wrists strong. Once again, moving the hands out wider will be create the maximum oscillation and vibration, so it is advisable to gauge what suits your body. You can also dip up and down, and pulse at various degrees; all these variations will add to the intensity of the overall workout.

Advanced techniques using resistance bands
A variety of exercises can be done with varying resistance band strengths, incorporating pulsing moves at various elevations of the raised leg; the bent knee which is on the ground can be placed on a cushion if the floor is a hard surface. The elbow of the arm on the machine should have a slight bend for maximum vibration travel in the muscle fibers. This elbow can also be supported with a soft cushion to avoid making it too sore from resting on the mat of the Challenger's platform. The number of reps for each arm and leg is repeated to a comfortable extent - and not such as to over fatigue the muscles.

The resistance band can be used with both and leg movements which will serve to mainly activate the gluteus, biceps and triceps. It is important to clasp the fingers tightly and hold the wrist in position so as not to injure the wrist through excessive flexion. Always build up from a lower to a higher level resistance band to ensure a gradual improvement takes place in the muscle toning process.
Practitioner Experience of the Flexxicore Passive Exerciser
By Terri Goddard – Shiatsu & Acupressure Practitioner

"Your FlexxiCore has been really useful in rehabilitating the strained sacro-illiac joint in my right hip. This results from a long-standing and gradually worsening imbalance in my pelvis.

Over the years I have tried many treatments which helped temporarily, but nothing stabilised this condition, and I had to give up all exercise and use extreme caution to avoid shifting the S.I. joint. Two things then happened to rescue me. A Pilates teacher helped me to learn use of my muscles more evenly; and the passive exercise I get with the FlexxiCore keeps my S.I. joint mobile without straining the cartilage, nor hurting my knee and ankle. My spine isn't thrown out of line as I am lying flat on the floor, and it is loosened and energised by the fish-like wave motion created by the Exerciser.

The FlexxiCore Passive Exerciser combined with well-supervised Pilates training is an excellent combination for conditions like mine, and I use the Exerciser with my patients as well. It invigorates and relaxes at the same time, like my chosen therapy, Shiatsu.

Even five minutes on the FlexxiCore makes a difference, and affects mood as well as physical stress."

For Terri's full story, read her letter of appreciation here
FlexxiCore Challenger: Overview
Find out about this revolutionary approach to staying toned, fit and flexible – without breaking sweat…
Would you like to exercise more, but often feel too tired or lethargic to achieve this goal?

Would you like to give your body an invigorating workout in just 5 to 10 minutes?

Could you do with some 'automated' help in staying fit and healthy in your own home?
The FlexxiCore® Challenger ® combines the technology of the specialist Whole Body Vibration Training equipment used in many Health Clubs and Gyms with a convenient, versatile and affordable design that can be used either at home or in professional settings.
Whole Body Vibration Training ("WBV" - also known as "Acceleration Training " or "Biomechanical Oscillation") was first developed in Russia and was used to help astronauts recover from muscle atrophy, as well as to help athletes improve their flexibility and strength.
Further research over the years led to the development in the Netherlands of sophisticated vibration devices that have become popular as a means to enhance the fitness training of ordinary people in health clubs and gyms. They make efficient use of vibration force to stimulate rapid-fire, involuntary reflexive responses of almost all muscle groups throughout the body.
More recent clinical research over the last 10 years or so has shown a wide variety of potential healthcare and rehabilitation benefits that can help with a spectrum of conditions such as high blood pressure, low back pain, reduced bone density and hardening of the arteries.
What exactly is "Acceleration Training"?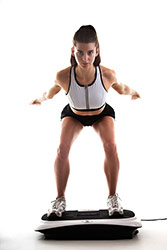 The great benefit of WBV training is that it accelerates the effects of any exercise, stretch or even massage by virtue of the increased intensity of the body's automatic response to the vibration force. The human body is designed to withstand the force of gravity. Each time the platform drops (the downward part of the vibration) the body's nervous system automatically responds so as to retain balance. The muscles contract and then relax again. Because each beat of the vibrations occurs rapidly, a series of muscle responses is triggered in a high-intensity continuum, improving their flexibility and strength.
Our bodies were designed to adapt to constantly changing conditions, but modern lifestyles have led to much more of a "steady-state" existence. This deprives our nervous system of regular opportunities to exploit our innate capacity to cope with varying levels of exertion within short intervals of time. WBV also known as Acceleration Training has the great benefit of allowing the body to experience high-intensity exercise in a relatively short period of time; you can feel the difference yourself in just 5 to 10 minutes
Unique Design
The FlexxiCore Challenger was launched in 2015 and offers an ingenious variation on the original WBV format. It has a wider platform which combines vibration force with a secondary oscillating motion. This oscillation (alternate tilting of the platform from one side to the other at varying speeds) creates an additional dynamic movement for the pelvis, muscles and joints to work with as the body responds naturally to the motion.
The oscillation happens simultaneously to the vibration of the platform, and a further variation is created in real-time when
using the automated speed changes that are programmed into the 3 pre-programmed "auto-modes". Alternatively you can use the manual mode which allows you to change the speed yourself during the course of your session.

In this way the Challenger's design allows for even more variation in the way that the body is constantly challenged to respond to the vibration force while at the same time retaining body balance by adjusting to the constantly changing tilt angle of the platform. The beneficial effects of WBV are increased if you are exercising or consciously stretching while on the vibrating platform. By experimenting with different movements, stretches and poses you can force your body to engage muscles in ways that are outside your normal movement patterns.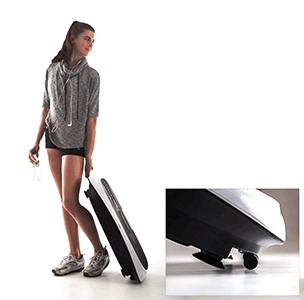 Another unique feature of the Challenger is it's ease of handling. With a roller at in end, and a handle at the other, it is easy to pull or push across a carpeted or hard floor surface. Its flat shape means it can be easily stored - either on its feet or upturned on one side or one end.
Versatility
Another advantage of the Challenger's design is its wide and unobstructed platform – it has control panel flush with the platform, unlike traditional WBV equipment which typically has a control tower with handle bars standing on one side of the platform. The Challenger's unobstructed platform gives you maximum freedom to use a broad range of exercise postures, stretches, and massage positions. This versatility means that people of all ages and fitness levels can use it to target their particular goals - with many different options available to them.
To get maximum benefit from any exercise regime it is important to slightly vary your routine each time. By making small changes, you can keep challenging the body on every level. Without constant variation your body will coast on a sort of plateau, instead of being forced to keep making extra use of its resources. To keep your innate vitality, you need to "use it - or end up losing it."
For more details of the Challenger's unique design features, please read our Features and Benefits page.
Suitable for ALL Age Groups and Fitness Levels
The beauty of the FlexxiCore Challenger is that it can be used at the performance level you choose yourself, based on your fitness and health status, condition, and personal goals. The remote control handset and pre-set automated programs are easy to use, and keep you in control of speed, time and chosen program at all times.
Even if you are elderly or feel your health status is below par, you can use the adjustable manual controls or choose a less challenging program to enjoy a session suited to your fitness level. A session on the Challenger combines all these variable factors -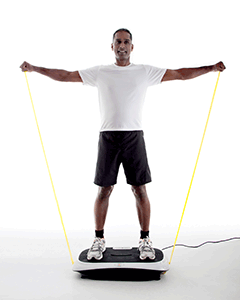 vibration

oscillation

variations in speed

how you move, stretch or hold yourself on the platform
This amazing degree of variation ensures that you 'challenge every fibre' every time you use the FlexxiCore Challenger – without necessarily breaking a sweat.


Experience & Trials
We have produced a training video which gives tips on how to start using the FlexxiCore Challenger.
You can also review here some of the many different Ways To Use the FlexxiCore Challenger - here you can see and get more understanding of the wide range of potential ways to exercise, stretch and get various types of massage on the FlexxiCore Challenger.
Patrick Moriarity is an 85-year old gentlemen in New Zealand who was so impressed by his first 2 months' use of the Challenger that he wrote this "Report on an alternative approach to traditional exercise for the elderly and the recovering patient."
Energy for Health ran a Pilot Study with 10 participants in 2015; you can read a summary of the results here.
As a result Phase 2 Trials were held in 2016. A Summary of the Results of these Trails with 42 Participants can be read here.
Research
Regular exercise is vital in many ways including maintenance of muscle tone, flexibility, bone density, metabolic rate, lymph and blood circulation, better sleep, and boosting endorphin release. Several clinical studies have reported WBV-induced increases in strength, power and performance in young healthy adults1. WBV training is equally or perhaps even more beneficial for older individuals and those with less than optimal health. Studies show a broad range of benefits including:

increased oxygen consumption

2

improved cardio-respiratory fitness

3

, lowered blood pressure

4

and reduced hardening of the arteries

5

fat loss

6

improved flexibility

7

relief from low back pain

8

increased muscle strength and muscle mass

9

improvements in bone density

10
You can read here a Sample of Published Clinical Research Studies on WBV Training, which shows a broad spectrum of positive results across a variety of conditions.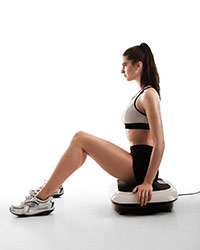 For more details of the Challenger's unique design features, please read our Features and Benefits page.



References
1 Delecluse et al. 2003; Roelants et al. 2004; Ronnestad 2004; Savelberg et al. 2007; Bosco et al. 1998; Lamont et al. 2008, 2009, 2010; Di Giminiani et al. 2009; Torvinen et al. 2002
2 Hazell et al. 2010, 2012; Gojanovic et al. 2012; Vissers et al. 2009
3 Bogaerts et al. 2009
4 Figueroa et al, 2011 – 14
5 Otsuki et al. 2008
6 Hazell et al. 2010
7 Sá-Caputo et al. 2014
8 Del Pozo Cruz et al. 2011
9 Bogaerts et al. 2007, 2009
10 Gusi et al. 2006; Liu et al.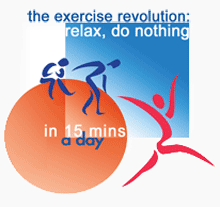 Bring vitality and relaxation into your daily life with this stress-relieving passive exerciser
It's true! You really can enjoy the benefits of an invigorating workout by simply lying down and relaxing with your feet up…
Simply lie down and relax. The FlexxiCore will do all the work.
Let the waves of sideways motion flow through your body, gently easing away tension and stress.
Rediscover the suppleness and sense of wellbeing you enjoyed when you were younger.

The FlexxiCore offers an ingenious way of enjoying a relaxing yet invigorating exercise session in the comfort of home. The effects of one session lasting just five to ten minutes combine many benefits for maintaining your body's health and improving your daily sense of well-being, including:
The natural benefits of exercise - deeper breathing and better circulation
Relief of tension and imbalances in the hips and spine – the body relearns how to relax
Boosts your energy levels in a calming way – helps many to enjoy better sleep
Helps to stimulate your body's natural health maintenance capacity

With Direct-from-Factory Prices the FlexxiCore is an affordable, relaxing and wonderfully rewarding way to invest in maintaining your health and helping your body to stay young. We offer a No Obligation 60-day Return Policy: See details of our Two-level Money Back Guarantee
Buy now
Frequently Asked Questions
About the FlexxiCore®
Home
FlexxiCore Passive Exerciser