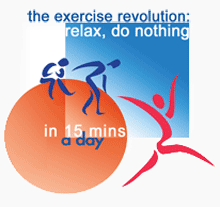 Bring vitality and relaxation into your daily life with this stress-relieving passive exerciser
It's true! You really can enjoy the benefits of an invigorating workout by simply lying down and relaxing with your feet up…
Simply lie down and relax. The FlexxiCore will do all the work.
Let the waves of sideways motion flow through your body, gently easing away tension and stress.
Rediscover the suppleness and sense of wellbeing you enjoyed when you were younger.

The FlexxiCore offers an ingenious way of enjoying a relaxing yet invigorating exercise session in the comfort of home. The effects of one session lasting just five to ten minutes combine many benefits for maintaining your body's health and improving your daily sense of well-being, including:
The natural benefits of exercise - deeper breathing and better circulation
Relief of tension and imbalances in the hips and spine – the body relearns how to relax
Boosts your energy levels in a calming way – helps many to enjoy better sleep
Helps to stimulate your body's natural health maintenance capacity

With Direct-from-Factory Prices the FlexxiCore is an affordable, relaxing and wonderfully rewarding way to invest in maintaining your health and helping your body to stay young. We offer a No Obligation 60-day Return Policy: See details of our Two-level Money Back Guarantee
Buy now
Frequently Asked Questions
About the FlexxiCore®