Getting Started with the Flexxicore Challenger
Getting started with and using your FlexxiCore Challenger
This short video gives you a step-by-step guide on operating your FlexxiCore Challenger and getting the best out of it.
Alison Lapper MBE
How my Life has been Transformed by the FlexxiCore Challenger
by Alison Lapper MBE
Ali Lapper graduated with a first-class honours degree in fine art from Brighton University. In 2003 she received an MBE for services to art. Mark Quinn's famous sculpture of her was set on the Fourth Plinth in Trafalgar Square in 2004. In 2005 she received the World Achievement Award presented by Russian President Mikhail Gorbachev, and several other awards since*.
The following is excerpted from a longer article written by Ali and to be published in Positive Health magazine in July 2017.
My Discovery and Use of the FlexxiCore Challenger
As soon as I saw the FlexxiCore Challenger I realized that I needed it to exercise in order to revitalize my body. I acquired it just before Christmas, 2015.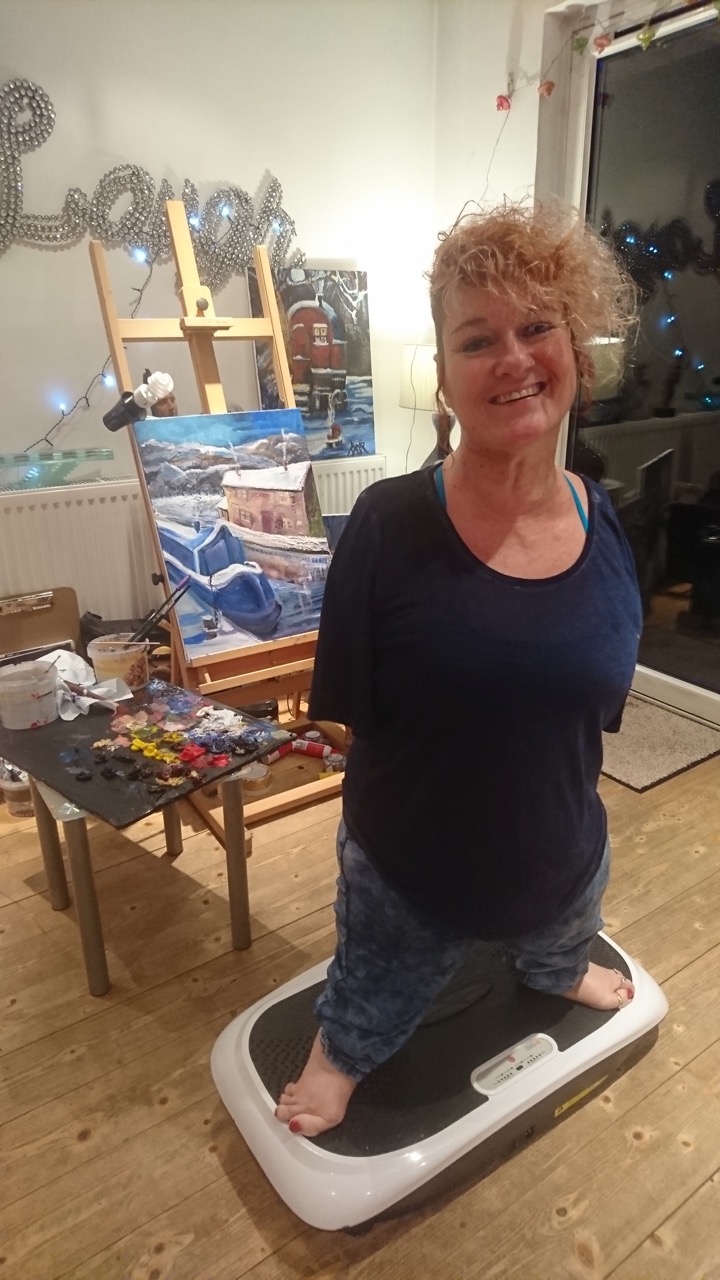 At first I could only use it at the slowest speed for a very short time and required someone to support me as I could not balance. Within two weeks I was up to speed 3 and could balance on it alone but only for 2 to 4 minutes as I had no strength to stand for any longer. Soon I was up to speed 4 and standing alone for 5 to 10 minutes. Within two months I was able to use the machine on Automatic (variable speed vibration and oscillation) by myself for 10 minutes at a time, sometimes twice a day. This pattern continues. I generally feel so much better. I am definitely using muscles in my legs and lower back that I had forgotten about.
My regular masseuse says that my muscles are easier to soften, that she can work more deeply into them and that she can give me a much more satisfactory massage. I am much more supple than I used to be. It is now easier for me to get into and out of chairs, my bed and my driving seat. It is more comfortable to drive and I feel as if I am sitting higher in the driving seat. I have more stamina to do what needs to be done, e.g. travel to Manchester by train for radio or television appearances. I recently drove to Colchester from Shoreham in 2½ hours and arrived feeling fresh for a day's filming. I am finding it much easier to cope with day-to-day living.
My Current Health and Future Plans
For the first time in my life the muscles in my abdomen feel firm. I believe that there has been an improvement in my cardiovascular state although it is difficult to tell precisely because it is not possible to use a blood pressure monitor on my body. My level of energy and ability to engage in work is significantly improved. Together with photographer Rankin, I co-presented a BBC4 documentary called, No Body's Perfect. This required a great amount of stamina on my part and, since being able to exercise regularly on the Challenger, I found that I had greater reserves of energy.
Recently I completed my first solo documentary on the artist and poet William Blake, a man who knew adversity in his life. He was an independent and bloody minded visionary, who would have been better suited to the twenty-first rather than the eighteenth and nineteenth centuries. He was possessed of great wisdom as well as wonderful artistic, poetic and lithographic talent. To prepare this film I had to make two journeys to Paris involving early morning departures from Kings Cross and Ashford in Kent, take part in a full day's filming and make a same day return home. This was such a gruelling schedule that I could never have completed it had I not been able to exercise on my FlexxiCore Challenger. For the immediate future I am very keen to do more work on documentaries of all kinds, not necessarily to do with disability or even art. I also work with children with different abilities, either learning or physical, teaching them to paint with their mouths or their feet, in addition to children in academies, senior and junior schools.
My intention is to continue to use the FlexxiCore Challenger twice a day, if work permits. Without it, I know my health would definitely deteriorate at a faster rate. My ability to transfer from sitting to standing, to move to my vehicle, to climb in and out of the driving seat and complete long journeys would not be possible without this regular exercise. I have no hesitation in recommending the Flexxicore Challenger to everybody of all ages and abilities, particularly to those who have difficulty exercising.
* Ali received the Outsiders Award in 2006 for her artwork around sexuality and disability; The Life Award in 2007 from Germany for success in the face of adversity; and the World Artists Award for art specializing in the body beautiful, no matter what, in 2014. She has also been awarded an Honorary Doctorate by the University of Brighton for her contribution to the arts and being an ambassador for those with disabilities. She is a full member of the Mouth and Foot Painting Artists of the World (MFPA) who produce original artwork for Christmas and other greeting cards.
© Positive Health Magazine 2017: Reproduced with permission
Making High-Intensity Exercise Enjoyable & Accessible for All Ages & Fitness Levels
The FlexxiCore Range of Exercise Equipment Covers Continuous Passive Motion and Acceleration Training – aka Whole Body Vibration Training
Judith Morrison
In 2001 Judith Morrison discovered that she had Relapsing / Remitting Multiple Sclerosis. In 2006 she was introduced to the FlexxiCore Passive Exerciser by Duncan Hulin, her Yoga Teacher and Shiatsu Therapist. (You can read Duncan's report at the foot of this page.)
Judith wrote about her first experiences in 2007:
"I was introduced to the FlexxiCore in August 2006. I had seen another model. It only had one speed, 160rpm. I watched someone using it and felt being shaken like that was not something I wished to experience as it would probably set off a bout of MS symptoms.
"I took part in a 30 day trial run by Energy for Health (who sell these exercisers) with health practitioners and patientsusing the FlexxiCore model.
"I used the machine while lying on my bed and started for a few minutes twice a day at the lowest speed, 80rpm, building up time and speed gradually.
"During the trial I had to get used to the movement. I experienced headaches and other reactions that passed as I would reduce the time and speed for a few days. I expected some kind of reaction as it was helping the body's circulation and that would 'release toxins'.
"Over the four weeks of the trial the main things I noticed were:
Reduction in pain in legs

Some mobility in pelvis area

Easier to stand with back, hips and feet more aligned with what my physiotherapist tells me to do

Less tension in shoulders

Now able to use my pedal exerciser more, and no longer a chore, but enjoying the feeling of movement of legs

Improvement in sleep

Initially made me more relaxed, and deeper breathing after using the FlexxiCore; I think this is being converted in to the beginnings of a feeling of wellbeing that I have not had for some time, and the sort of physical feeling that used to come from a good walk

Ankles were not very swollen, as I made a point of putting my feet up often, but hardly any problem with swollen ankles in last two weeks of the FlexxiCore trial

Able to sit for longer at computer, and if I was still not getting pain in soles of feet, I would be walking better

And best of all, the heavy fatigue feeling has gone; still getting the MS tiredness, but that is part of the demyelination.
"I was pleased with the results I had using the FlexxiCore, so I bought one. I have used it daily (two or three times for 5-15 minutes) ever since.
"In May 2007 I was able to get up from the floor on my own with the aid of a chair. So I now use the FlexxiCore on the floor.
"There are different models of these Passive Exercisers available. The important technical bit to look at is its motor. I think what enabled me to be able to use it (and enjoy it) was the control I had over the speed. Sometimes I want a slow, relaxing 'ride', other times the pleasure of more movement.
"The FlexxiCore has 3 auto programs. My favourite is auto 2, which over 15 minutes goes from 80rpm to 140rpm max, maintains speed, and then comes down to 95rpm."
Judith became such a vocal fan of the FlexxiCore that she composed a poem and sent it to us for our website:
"Spasm and pain. It's my legs again.
This time it is bad, the worst relapse I've had.
Sleep is elusive. Moving is hard. Fatigue gains a hold.
A yoga therapist calls weekly. He stretches aching limbs. Oh, when will I be up and walking again?
Then an exercise machine swinging my legs, to and fro, to and fro.
Just a few minutes daily, laid on a bed. Slowly at first, then a touch faster.
Relaxing. Breathing. Pain reduces. Sleep improves. Fatigue decreases.
The peddle exerciser is no longer a chore. I want to do more!
Movement is joy. It is back in my body.
Down on the floor for twists and stretches.
Then on the FlexxiCore for 'rides', better than ever.
With the aid of a chair I get up by myself. Flexibility and wellbeing once lost are reclaimed.
"It helps the little muscles too", the voice on the radio said. The novel walking aid arrived to help balance and foot drag.
It is true, I now wiggle my toes and can feel my feet.
I do it all daily. It is a pleasure, a treat.
Now I'm out through the door, dreaming of striding o'er Exmoor."
In 2014 Judith was diagnosed with a second neurological condition, Sensory Processing Disorder. She still uses the FlexxiCore daily and has put an entry on the "Useful Equipment" page on her website at http://www.enjoylivingcontentedly.com/wellbeing/useful-equipment - where she describes it as "great for people with limited mobility." She says "I love it and use it twice a day. It is at the end of my bed and sometimes I use it on the lowest speed at night to help relieve pains in my legs."
Report from Duncan Hulin – Director of The Devon School of Yoga, and Shiatsu Practitioner: 6th November 2006

"In the capacity of a Yoga and Shiatsu Therapist I have been seeing this patient [female: 53] for the past 30 months. I have worked with her using a combination of simple yoga breathing coordinated stretching exercises along with regular Shiatsu treatments, which include passive stretching, manipulation and acupressure.
"One area receiving particular focus has been the realignment of her pelvis which gets put out of alignment due to spasms caused by her MS condition. I have noted in recent months since she has been using a FlexxiCore Passive Exerciser (which I introduced her to) an improvement to the degree of misalignment as well as an improvement in her general wellbeing, which I feel has been influenced by the overall improved circulation that the FlexxiCore gives. Having worked as a body oriented Therapist for over twenty years and having seen many clients with MS I am impressed with the positive effects that I have observed in this patient since her use of the machine."
Duncan Hulin MRSS
The stress-free way to safely exercise your back, energise your system and release tension – all while you lie down and relax!
The FlexxiCore Passive Exerciser incorporates an advanced design that has evolved over 10 years to effectively combine the benefits of Continuous Passive Motion (CPM) with the principles of a simple home exercise machine developed in Japan that swings your feet.

All at a fraction of the cost of the specialist CPM equipment used by back care professionals.
Home
FlexxiCore Passive Exerciser